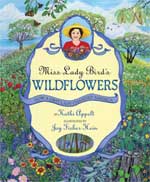 MISS LADY BIRD'S WILDFLOWERS
HOW A FIRST LADY CHANGED AMERICA
by Kathi Appelt
illustrated by Joy Fisher Hein
This award winning book is a warm engaging look at the life of a great First Lady.  Kathi Appelt tells the story behind Lady Bird Johnson's environmental visions.  Joy Fisher Hein's colorful wildflowers burst from every page inviting us to share in Lady Bird's love for natural beauty.
Bluebonnets and lady's slippers, larkspurs and blazing stars, black-eyed Susans and Granny's nightcaps.
From a lonely childhood in the Piney Woods of East Texas to an exciting life in the White House, Lady Bird Johnson loved wildflowers with all her heart. They were her companions in her youth, greeting her everywhere as she explored wild forests, bayous, and the Texas Hill Country. As First Lady, she sought to bring the beauty of wildflowers to America's cities and highways. She wanted to make sure every child could enjoy the splendor of wildflowers.
.
"It is important for a child to plant a seed, to water it, nourish it, tend to it, watch it grow, and when he does, and when she does, they themselves will grow into great citizens."
Lady Bird Johnson 1912-2007,
First Lady of the United States of America 1963-1969
Awards
GROWING GOOD KIDS BOOK AWARD Master Junior Gardeners-2006
CHILDREN'S CROWN AWARD Finalist-2006
JUNE FRANKLIN NAYLOR Honorable Mention-2006
TEDDY AWARD-2005
Reading is Fundamental STEAM Book-2013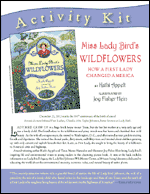 LADY BIRD GREW UP in a large brick house in east Texas, but she lost her mother at a very early age and was a lonely child. She found solace in the wildflowers and piney woods near her home and cherished their wild beauty. As First Lady, she sought to bring the beauty of wildflowers to America's cities and highways.
Award-winning author Kathi Appelt and Texas Master Naturalist and illustrator Joy Fisher Hein bring Lady Bird's inspiring life and environmental vision to young readers in this charming picture book.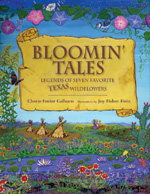 BLOOMIN' TALES
Seven Favorite Wildflower Legends

by Cherie Foster Colburn
illustrated by Joy Fisher Hein
Our country is known for its abundant wildflowers. Now, in true tall-tale tradition, the history of the plants and the people who made our country great come to life. Told by the people who first settled the wilderness, these legends reflect the excitement and hardships of adapting to a new environment.
Favorite wildflowers come to life in beautifully illustrated folktales. Look closely at the wildflowers all around: They hold tales of excitement and adventure passed down to us from the earliest settlers in this great land. Behind the flowers' pretty faces, you'll discover talking rattlesnakes, magic feathers, clever foxes and much, much more.
National edition, Softback 64 pages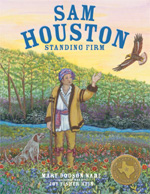 SAM HOUSTON
Standing Firm
by Mary Dodson Wade
illustrated by Joy Fisher Hein
Sam Houston was a big man. He did big things for Texas.
From the time he ran away to live with the Cherokee as a boy until he signed the Texas Declaration of Independence and led the Texans to victory at the Battle of San Jacinto, not everyone agreed with him. But Sam always stood firm in his own beliefs.
Sam Houston comes alive in this fascinating biography for young readers. Houston's endeavors and accomplishments include becoming a lawyer, army general, congressman, governor of two states, and President of the Republic of Texas. His defeat of Santa Anna's army at San Jacinto in 1836 secured the independence of Texas and this book helps his legend live on in Texas history and lore.
Sam liked Texas so much that he stayed. He wrote his cousin~ "Jack, Texas is the finest portion of the Globe that has ever blessed my vision." Sam Houston 1793-1863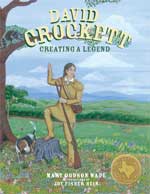 DAVID CROCKETT
Creating A Legend
by Mary Dodson Wade
illustrated by Joy Fisher Hein
Meet the real person behind the larger-than-life legend of Davy Crockett.
From his humble beginnings in east Tennessee to his valiant stand at the Alamo, this biography introduces young readers to the real person behind the larger-than-life image of Davy Crockett, highlighting the strong character traits of this Texas hero. Much more than a rough-and-tumble frontiersman, Davy Crockett was also a businessman, a U.S. congressman and a freedom fighter. Joy's paintings complement the author's work to create a detailed and accurate historical world to help young readers gain a deeper understanding of the legend and his life.
When Davy arrived in Texas, January 1836, he wrote his family a letter. "This is the garden spot of the world."
David Crockett 1786-1836